Legislation and the Legislative Process in British Columbia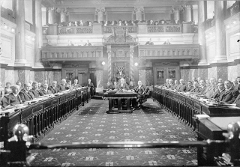 Welcome to the library resources guide for students researching bills, statutes and other information about legislation and the legislative process in the Province of British Columbia.

The purpose of this guide is to highlight some of the key resources for conducting research in this area.

Resources are arranged by category and can be accessed by selecting from the tabs above.
Baer, W. The legislature of British Columbia in session, 1921,