When an assignment specifies that you find research articles, you will need to use academic journals. Many of the Library's Article Databases allow you to narrow your search to peer-reviewed (academic) journals, but your search doesn't end there; not all articles retrieved from academic journals are going to be research articles. Knowing the potential components of an academic journal will help you to determine which articles are research articles, and which are not, despite appearing in an academic journal.


Note:even within a peer-reviewed publication, not all of these components are necessarily subject to the peer-review process. You will need to read a specific publication's editorial policies to determine whether their letters to the editor, book reviews, and news briefs are peer-reviewed prior to publication, or whether they just review feature-length research articles.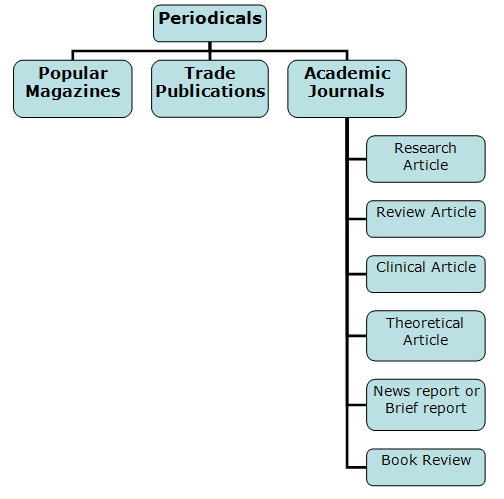 Research Article
The primary purpose of a Research Article is to present original findings, though these articles will also include a bibliography of other literature reviewed. These articles can be identified by looking for the following elements: an introduction, description of the research design, discussion of the data and methods, and bibliography. They are also sometimes referred to as "empirical studies," and they will usually make up the majority of the content in a journal.

Review Article
A Review Article is a secondary source that reports and summarizes other authors' works for the purpose of reviewing the state of the literature on a particular topic. Review articles contain helpful bibliographies and can be excellent sources for identifying Research Articles in an area of study, but they are not themselves Research Articles.

Clinical Article
Written for practitioners (for example in Nursing,) these articles might present a particular case study or define a new technique.

Theoretical Article
Written to advance theory, these articles use existing research to present a new theory or to analyze and criticize existing theories. The existing research could be found elsewhere in Research Articles, but the Theoretical Article itself should not be confused with a Research Article.

News Report or Brief Report
Journals may contain a News section with brief reports on brand-new research in the field; these are quick summaries or announcements of the research studies, and not full research articles presenting the research findings. The related research article may, in fact, not yet be published.

Book Reviews
Some journals include a section with reviews of new scholarly books in the field of study. The depth of the reviews depends on the specific journal, as does the process by which books are considered for review in the first place. Book reviews can be helpful in identifying resources for further reading.